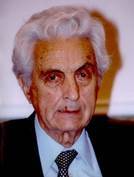 IN MEMORIAM
Academician Prof. Dr. Branislav Šoškić
Dear ECPD Members, Friends, Postgraduates and PhD Candidates,
It is with great sadness that we announce to you the passing of Academician Prof. Dr. Branislav Šoškić, one of the main pillars of this international educational and research organization, a prominent professor since its first days as, Dean, Rector and President of the Scientific and Education Board of the ECPD University for Peace established by the UN. In his extremely rich career, Academician Šoškić held different high-ranking positions, including, inter alia, that of the President of the Republic of Montenegro, President of the Montenegrin Academy of Sciences and Arts, President of the Yugoslav Economic Academy, a member of European Academy of Sciences and Arts and many other prestigious national and international functions.
Academician Šoškić left an impressive record as a most distinguished professor and well-known theoretician in the Yugoslav Economics, marked by extraordinary work, dignity and integrity. We will remember him forever as our sincere friend who possessed the best human virtues.
Academician Šoškić graduated from the Faculty of Economics in Belgrade (1951), and received his Ph.D. (1954). He pursued his post-doctoral studies at the Universities in the United Kingdom (St Andrews and Cambridge) (1955-1957) and in the United States (Harvard and California Universities) (1962-1963). On a number of occasions, he was invited to lecture at universities abroad, mostly in the United States. He was the guest of foreign Academies of Sciences and universities where he lectured and presented a large number of scientific papers and statements at symposia (Paris, Sofia, Bratislava, Rapallo, Venice, Moscow, Salzburg, Warsaw, Prague, Poznan, Weimar, Budapest, Plzen, Berlin, Rostov, Geneva, Berkeley, Leningrad, Sorento, New Delhi, Bombay, Bangalore, Madras, Calcutta, Vienna, Bucharest, Lubbock, Dar es Salaam, Morogoro, Seychelles, Beijing, etc.).
He published over 400 scientific and professional works, books, monographs, studies and handbooks, collected works, scientific papers and statements (presented at Yugoslav and international symposia), articles and other texts in Serbian and foreign languages (English, French, Russian, Spanish, German, Italian, Czech, Polish, Bulgarian, Albanian). His widely known books are: The Evolution of Economic Thought (awarded by Belgrade University)(1965, 1968, 1970, 1972, 1974, 1978); Production, Employment and Stabilization (1970, 1972, 1973); Income Distribution in a Market Economy (received the October Award of Belgrade (1971, 1974); Theory of Value – Classical Economic Analysis (1971); Economic Analysis I and II (1972, 1973); Economic Cost of Education (1974, 1983); Economic Doctrines (received The 13 July Award) (1975, 1976, 1980, 1983); Modern Economic Analysis (1978); Economic Thought and Economic Policy (1978, 1980, 1989); The Evolution and Fundaments of Contemporary Economic Thought (1986, 1988, 1990); Currents of Economic Thought (1992); Economic Thought – Evolution and Modern Principles (1995).
Academician Branislav Šoškić had previously been a professor and Dean of the Faculty of Economics, University of Belgrade, as well as a Distinguished Fulbright Visiting Professor at several American universities.
The funeral will take place on Friday, 8 April at 11.30, at Novo groblje.
Repose in Peace, dear Friend, in Eternal Glory!
Cabinet of the ECPD Executive Director
European Center for Peace and Development
University for Peace est. by United Nations