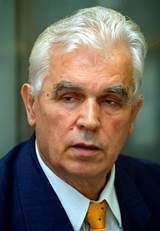 Dear ECPD Postgraduate Students, Partners, Members and Friends.
It is with deep regret and profound sadness that I announce the passing away of our distinguished member of the ECPD Academic Council and long-standing Full Professor, Academician Prof. Dr. Dragutin Zelenović who gave his enormous contribution both in the process of foundation and in the work, development and affirmation of this international educational and research organisation. During his impressively rich career, Academician Zelenović held many high positions, being, inter alia, a Member of the Presidency of Yugoslavia, Serbia's first prime minister, rector of the University of Novi Sad which thanks to him became a modern campus 50 years ago and a member of the Serbian Academy of Sciences and Arts. He is an author of numerous books, monographs, studies and articles published in Serbian, English, German, Russian, Chinese and many other languages in different countries.
Academician Zelenović was buried today in family's cemetery plot surrounded by his close family members. A commemoration ceremony to honour the life and work of this brilliant scientist, professor and high-ranking Yugoslav and Serbian functionary is to be organised after the coronavirus pandemic is put under control.
Academician Dragutin Zelenović and his wisdom, knowledge and dedication to ECPD will be greatly missed and fondly remembered.