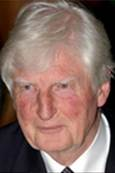 WOLFGANG WOLTE
a champion of European integration, peace and tolerance
It is with deep sadness that we bid farewell to Ambassador Dr. Wolfgang Wolte who passed away on 24 June 2020. With his death, we lost a distinguished long-standing member of the ECPD Council and a close friend of ECPD who provided strong support to the institution from the very foundation. It was upon the proposal of Ambassador Wolte that ECPD launched a program "The Balkans in the 21st century"- Ways Leading to Peace and Stability in the Balkans" under which umbrella numerous research projects and educational programs were implemented and the ECPD international permanent study group was established in 2001. This Group of experts, chaired by Ambassador Wolte, was focused on studying inter-ethnic relations and giving recommendations and suggestions to the governments of the countries across the Balkan region and European Commission in Brussels for resolution of the burning problems in the Balkans.
As Austria's first ambassador to the forerunner of the European Union between 1987 and 1993 in Brussels, Wolte was instrumental in preparing Austria's entry into the EU on January 1995. He was also ambassador to China from 1980 to 1986. Throughout his life, he was passionate about European integration and the European peace project. Ambassador Wolte is considered to be, as Foreign Minister Alexander Schallenberg said, " a pioneer of Austria's EU accession" and the diplomat who "shaped Austria's European policy like no other Austrian and strengthened the spirit of European cooperation". 
Members of the ECPD Council, faculty and other friends of ECPD sincerely mourn his loss, and feel close to his wife Ursula and his daughters. He will be greatly missed and remain in our memories forever.