The Round Table (RT) was held in Belgrade, Serbia, on May 22, 2010. It was organized within the overall activities of the European Center for Peace and Development (ECPD) devoted to the preservation of cultural heritage in the Balkans initiated in 2005. In the meantime three regional conferences on the integrative protection of cultural heritage were organized and held, all three in Banja Luka, Republic of Srpska (B&H). The main aim of this RT was to establish an open dialogue between all interested parties dealing with issues related to the Roma cultural heritage.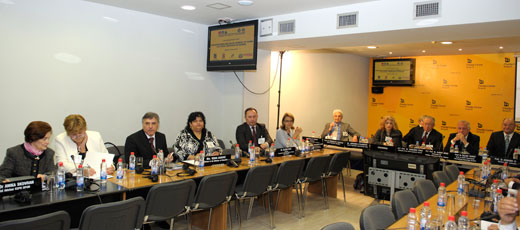 The RT was attended by 50 participants – experts in Roma customs and culture from Serbia, other Balkan and several European and non-European countries. It was chaired by Prof. Dr Rajko Đurić, Head ECPD Department for Romology Studies. H.E. Prof. dr Takehiro Togo, President of the ECPD Council, who delivered his Opening Speech and presented Concluding Remarks. The RD was divided into four main sessions as follows:
·         Education and language as elements of preservation and development of the Roma culture;
·         Music, customs, beliefs and other contents of the Roma national culture;
·         Impact of the Roma holocaust on the contemporary Roma culture;
·         Stagnation or development of the Roma culture and national identity.
The RT discussions were very dynamic and productive, carried out in the spirit of understanding and joint commitment to improving the position of Roma and their inclusion in the modern society. The presented papers will be published in a separate ECPD publication. Organization of the RT was supported by the Luxembourg Institute for European and International Studies and The Fund for an Open Society, Belgrade.